Reviews
Readers' Reviews
A great pub, especially in summer out on the second floor balcony. Nice home brew beers as well, the staff is usually friendly and polite. Relaxing atmosphere with superb large couches upstairs with an olde English charm about the place - definitely one of the best drinking holes in Auckland in one of the oldest buildings in Auckland. Quite fit bar maids too.
Mark Joyce, Auckland
Readers' Reviews
Well, a pub that is new and old at the same time, very nice and comfortable and friendly, with a traditional feel but has amazing food and out of this world beers brewed there. Small, but as it is on three levels there is always something going on and the staff are unique, I think they grew with the place. Very hard to convey the feeling, but it's all good. Always a laugh to be had with a really eclectic crowd of patrons. The nearest thing to an English pub that I've found, but very Kiwi.
Justin Fountain, Auckland
Venue Photos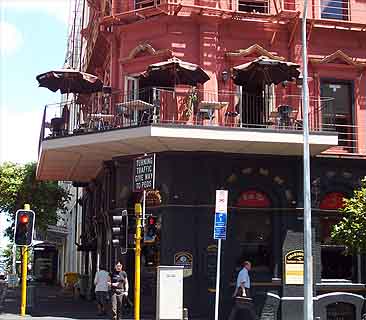 Shakespeare Hotel / Link to this page: https://www.partystar.co.nz/venue/21286/